Well that soon came round, October, the start of the countdown to Christmas although if you look round the various supermarkets it seems the Christmas stuff is already out and very little if anything to do with Halloween and the like. maybe they are not bothering this year, the ProDom industry call it Locktober, lock your man in chastity for the month of October, or in some cases men, I have a couple of guys I'd consider to take on as chaste if they so wished but generally speaking I'm not a key collector, I took care of all that back in 2010, after spending the afternoon in a 5* hotel with My first true love cuckolding #1 I then decided 24/7-365  chastity was the way forward so I have given it little thought since then, the relationship is very much improved for it when all is said and done, My opinion overriding any other of course…..
So yet again My stocking clad foot and #1 in a belt, there is a reason, we have 4 full belts, 2 full steel ones worn 90% of the time but also two more light weight Fancy Steel style cable belts, very very good they are, so when I go out to spend a night with My lover I select a belt for the night, then to drive #1  potty I take pics of My feet on and near his belt, give him a mild trampling, enough to make him aware of his bits, through the night I send him the pictures and tell him where My feet have been, in My lovers lap, over My lovers shoulders, I'm sure you get the drift, it tortures him immensely as he has been a lover of My feet 30 years now and hates the thought of sharing them….Bless Him! so enough about the Locktober part of October and on to news and eventually medical….
So fresh back off the 'ole hollibobs and back in the thick of it, appointments are crazy busy, it was lovely to get away and also lovely to catch up with friends, way too much eating, I'm staying away from the scales for a few weeks, I'm sure I have undone some of My (good so far) weight loss with meals out etc, I had a very nice burger with Mistress Jane and S, and some really nice fish and chips with Dominant Dolly and Mistress Sidonia, fantastic whilst it's going down but a severe guilt trip afterwards, I will do it again though, it was far too nice not to…..it was great to see everyone looking well and to have a good natter and gossip …….The AirB&B was as good as the pictures and had a shower to die for #1 loved it, then a couple of days were over and off to the jolly 'ole Isle of Wight to see My Mum, she too for 89 looked remarkably well and it was good to see her, going a little mutton and in denial but I managed to talk her into getting a test and so hopefully when I see her at Christmas she'll be able to hear Me to! Ha, all in all a lovely little break, soon be Christmas  ‍
Always nice to see your regulars when you've been away and one of My fav's T was almost waiting on the door step when I returned, he was with Me 4 hours and it seemed like 4 minutes, always the way when you know the patient so well and enjoy the play so much, another fav this evening C, he'll be happy I have a new electrical box to use on him, it is the final prototype of a long journey of boxes and C is a great test bunny for anything electric, him liking it at the severe end of the scalejust where I like to administer it……
And after the weekend I will have #1 tentatively see if the mad rush is over at Apple  then it is that annual treat time of year and the new iPhone15Pro for Me, what colour is the biggest issue, I love Apple, not sure if I ever mentioned that before, #1 says when I'm out of earshot "She worships at the temple of Apple" he is not wrong if truth be told, if Apple do it I probably have one…..
I am very excited to be receiving a royal visit next week, the 17th Mistress Jane is visiting, we have plans and much to discuss going forward into next year, all will become clear in time…..The ProDom business can and is on occasion really quite cut throat,  I like to keep Myself to Myself and not  get involved with politics and along the way i have made some genuine friends, Mistress Jane being one of them….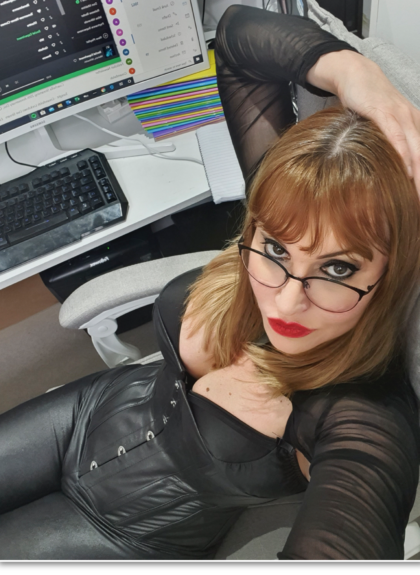 Staying on the subject of friends, another Lady I consider a friend is Mistress Miranda, I am popping down to see her at her stunning studio, The Bondage Laboratory, on the 30th, it's been too long since we met and over and above that I need to get better at making time to stay in touch as well as time for Myself…….
So today is the day of My first ever tattoo, I am absolutely shitting Myself, trying to fill the time till My appointment at 2, it is now 12…blogging and not having a clear mind….I will post a couple of pictures once I get back, I can't seem to find anyone who is able to describe it to me, #1 says it is more annoying than painful others it does hurt but not proper hurt more like scratching…..I'll be bloody glad to get it over and done with i can tell you….
Exciting stuff going on in other parts of My life, a new electric box above, the big one is of course an ET312 by ErosTek the small one is NOT a contestant too the other hand held boxes on the market it is a re devised reinvented Erostek box called the Micro312 it is much much more powerful than the old style ET312 made by ErosTek. Quite a lot has been changed, nearly all components are now SMD instead of through-hole, the battery is a single rechargeable lithium cell, the battery charging circuit has been changed to suit the new battery, the run time on the new battery is equal to the old original so super long, charging is done via a standard USB-C input instead of a dedicated wall adapter, you can if you choose use a wall adapter to. Internal 5V and 9V supplies were changed from Dropout regulators to more efficient switch mode boost convertors. A master output control knob was added to provide a way to adjust both channels simultaneously, an option to add BlueTooth audio input whilst retaining the wired audio and mic inputs, there are now no separate physical switches for the push buttons, the 4 user interface buttons are instead integrated into a custom made front panel with membrane switches. A completely different and massively improved unit, and did I mention the size? anyway I will do a blog dedicated to this amazing bit of kit but just wanted a snippet of it in here also, I am so happy to be able to sell them through Enfettered…….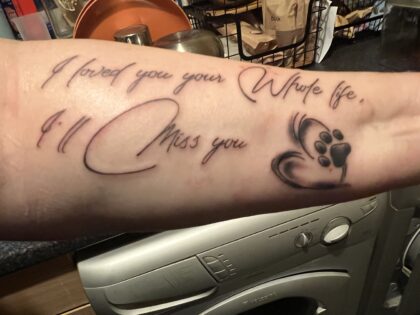 Ok so not being one to pour My heart out on social media, I'm sure you can see from My tattoo I lost a beautiful soul from My life….. My fur baby Murphy 17 weeks ago tomorrow, I have kept it within reason to Myself I'm not here to be giving it **Woe Be Me** and you're not reading to see how My dog is, those really close knew and now you all do…….What I found shocking and I have made notes worry not are the folks that did know who failed to send any kind of message, I now know all I need to know about those individuals, I'll treat the accordingly in future…..so now you all know let's all move on no need for messages thank you, it is long past that…..The Tattoo was My first and i have to say it F**kin*g hurt, but the statement it makes makes it well worth it….
So back to medical another two new rigs added to The Practice one you can see above, not quite finished yet there is a collar to be added to the top of the casing holding the bottle, blue of course though mmmmmm maybe a splash of orange just to satisfy Myself I have used both of My colours and it matches the varies other kit in My suite….I'll post pics of both side by side when both are complete…..they are for the GenerationF small room which I had hoped to have done by now, I have booked the workmen they are unfortunately all busy so a few weeks and it will be revived and much improved, it is a GenF bomb site at present, full of components that go into making My ultimate milking machine….
The month ends well on Saturday a visit from the Rascal Pup and Poppi, coming to have a go with the GenerationF machines and a social I hope and as if thats not enough on the same day a visit also from the gorgeous MissTess who is more coming to see #1 than me, more whips me thinks….He has a lot of Mistress friends bless him…..as he says to me, "They're not much fussed with me Ma'am, they just like a nice toy bag" we'll never know is the real answer but he is ever popular all the same….
So thats it from Me this month, many thanks to all that came to see Me, stay well and safe Dr.Sara