The Pre Med & Recovery Suite at The Practice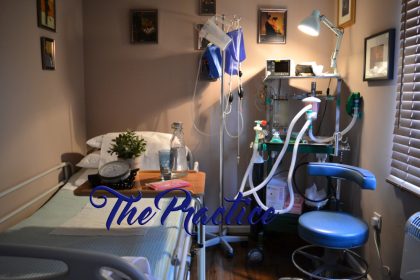 ---
This addition to the suite is where you will begin your visit and treatments to The Practice, and ultimately where you will be made comfortable to rest, recoup and recover from your fetish medical procedures.
Here you will find a fully made up hospital bed, with over bed tray, made up with crisp white hospital sheets. Datex Engstrom patient monitor to take vital signs readings before we begin.
You will be asked to get undressed, where there is ample place to hang your clothes and place your personal belongings, and then you will change into The Practice patient gowns either traditional cotton or midnight blue latex.
Within the Pre Med Suite, an International 1 Anaesthesia Machine, fully dressed with Adult Breathing System Circle Absorber and Valved Scavenging System.
After your procedures, on returning to the recovery suite, you will be able to have any number of refreshments and sweet sustenance until you are completely ready to leave.